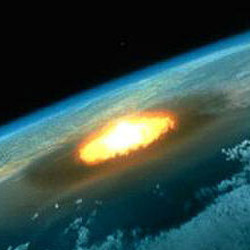 The Impact:50 submissions close on January 7th 2016, that's in...
A civilisation-destroying meteor, heading towards earth, is discovered by NASA. It's terrifying, devastating and inevitable impact is announced from the White House. With only two hours left for humankind, what would happen?
Can you tell a story in a two page script?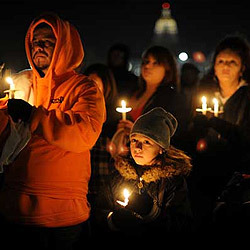 One that will deeply move the reader and, subsequently, the audiences who watch the final film?
If you can then enter your screenplay into our Script Contest for 'The Impact'. Full rules and guidance below. If you are one of the final 50, you will share screen credit with Hollywood screenwriting legend Joe Eszterhas. Read the rules, write a script, submit it, get feedback then rewrite it and resubmit. Read other submitted scripts and offer feedback. Create50 is not just a competition, it's creative community and self taught screenwriting school.
Can you make a short film based on a two page script?
Once the script stage of the competition closes, we will select the 50 best scripts and release them on the internet so filmmakers across the world can download and shoot their own versions. The best of the final films will be edited together to make an extraordinary feature film for cinema, TV and online.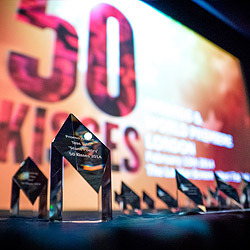 This will be our second feature film produced through the Create50 process, the first '50 Kisses' was premiered in February 2014, netting the second biggest box office of a UK film in the week of release. It's now online and you can watch at www.50KissesFilm.com.
With 'The Impact' we are taking the game to a much higher level.
Script submissions close in...
How does Create50 Work?
'The Impact' Judges include...
Ted Tally // Screenwriter
Oscar winner for 'Silence Of The Lambs'... MORE
Lisa Albert // Screenwriter and Producer
All eight seasons of 'Mad Men'... MORE
Nicole Perlman // Screenwriter
'Guardians Of The Galaxy'. Enough said. MORE
Ashley Pharaoh // Veteran TV
Producer and writer of 'Life On Mars'... MORE
Simon Kinberg // Screenwriter
'Star Wars' Episode VII and more... MORE
William Nicholson // Screenwriter
Oscar nominee for 'Gladiator'... MORE
Iain Smith // Producer
'Mad Max: Fury Road'... MORE
'The Impact' Core Team include...
Chris Jones // Create50 founder, team leader
Filmmaker and entrepreneur... MORE
Gub Neal // Executive Producer
Former Head of Drama at Ch4... MORE
Joe Eszterhas // Screenwriter
Writer of the opening script to 'The Impact'... MORE
Eddie Hamilton // Consultant Editor
Currently cutting 'Mission: Impossible'... MORE
David Nicholas Wilkinson // Distributor
Heading up distribution... MORE
Tina McFarling // Consulting Publicist
PR powerhouse in the UK film industry... MORE
To submit a script, click the red button on the menu at the top of the page.

About the 'World' of the feature film 'The Impact'
We wanted to create a storyworld that would challenge screenwriters and filmmakers to dig deep into a human narrative that transcends politics, religion and petty differences.
We want to explore the idea, 'As we look into the face of death with certainty, who would we choose to be in those last few hours?'
We also want to tie the fifty stories together with a single global incident.
Based on the location of each story, the writers and filmmakers will know at what time of day their individual tale will be set. This will allow us to move around the planet to explore and experience scripts and films from many countries and cultures whilst tying them into a specific and rigid timescale.
'The Impact' will have an absolute time and place and reality. So no aliens, zombies or the paranormal please.
It is not country or language specific (though screenplays must be submitted in English). In fact we encourage diversity and non English speaking versions of films once we enter the filmmaking stage. Again ALL scripts in English please.
Both the project and the final film will begin with a short but powerful announcement to the planet by the President of the United States.
This script has been written by Hollywood legend and highest paid screenwriter of all time Joe Eszterhas. We are filming it in the coming weeks with a top secret cast and crew.
Countdown to 'The Impact'… Our story
The Impact has a VERY strict time construct, to which you must adhere.
Zero hour: Amateur astronomer James Anderson spots the asteroid from his home observatory in Alice Springs, Australia. He immediately puts in a call to NASA.
One hour in: Four other amateur astronomers from the dark side of the planet confirm the Asteroid, provisionally named KT-1887.
Two hours in: NASA verify and confirm the size, trajectory and estimate 'the impact'. They debate action to take.
Two hours and fifteen minutes in: The White House is called and information relayed to William Jones, chief scientific advisor to the President.
Two hours and thirty minutes in: The President is pulled out of a meeting on agricultural policies and briefed on the impending threat.
Where our story begins...
Two hours and forty five minutes in: The President addresses the nation and planet. 'An asteroid the size of New York city will impact in the Atlantic Ocean, off the coast of Africa, in 97 minutes, it will destroy all life on earth aside from microbes. The blast will take just over one hour to travel around the planet…'
Four hours and twenty one minutes in: Impact in the Atlantic Ocean. The physical impact will be felt planet wide, mostly experienced as a small earthquke. The blast wave from the impact will take one hour to circulate the planet.
Five hours: Total annihilation of civilization and the end of our story as the blast wave comes full circle on the opposite side of the planet.

Map of the Blast Zone
Critical to the screenwriting and filmmaking is the blast zone and WHEN it will impact your story / shooting location. Above is a world map for a rough guide.
Which Act Does Your Story Fall Into?
To help us, we suggest you write a story that takes place in one of the three major acts. Your story can fragment and be told over two or three acts of course (person trying to get home told over the entire duration of the story for instance), but most stories will take place during a single act. You can add your suggested Act number to the title page of your script.
ACT ONE – It begins… What happens in the 30 minutes after the announcement?
ACT TWO – The ramp up to the Impact which happens at the midpoint. Then the second half of act 2 and the subsequent blast wave as it starts to travel across the planet.
ACT THREE – Preparing for the end. It's coming.

The story theme of 'The Impact'.
The story begins with the President of the United States delivering the devastating news in a global newscast.
Your scripts should tell a story of what happens between the announcement and the impact.
Your story can take place before the Impact OR after the Impact while awaiting the blast wave.
One of two stories will feature the blast impact as the earth shakes.
The theme is expressed through the human interactions that will take place in your stories. It is not science fiction. It's human drama with a science fiction backdrop.
Some stories may make us laugh, others should make us weep. All of them should move us and make us think about who we are.
Your story can take place over several hours as we visit your characters, though most will likely be told though a more compressed timescale.
In our story, the world does not descend into total anarchy or chaos (we can't stage this on challenging resources). There will be some chaos of course, and many people would of course abandon their jobs and services would most likely grind to a halt, like transport, communications, the internet. Of course, some people would remain to serve others. Just avoid large scale 'on screen' social breakdown.

Notes For Writers
If we get the scripts right, the films will be knockout and we will have a compelling movie that will make audiences 'feel' very deeply. And that is the core ingredient for a hit.
Make no mistake, we are building on everything that we learned from 50 Kisses and we are determined to produce a film that will attract both broad audiences as well as broadcasters and distributors. We want this film to play very widely.
We learned a great deal from 50 Kisses. Here are some thoughts.
Scripts MUST be two pages or less. Very few people submitted one page scripts, and there is no reason why you should not do so.
Give your script an original title and do not call it 'The Impact:50'.
Anyone can enter from anywhere around the world, though scripts must be in English.
Scripts MUST be submitted in English although the subsequent films can be translated into any language.
Do submit several scripts, especially the one you think is a great idea, and the one(s) that scare you to write. Be bold or controversial.
Do redraft, rewrite and polish before uploading. 80% of scripts submitted to 50 Kisses contained typos, redundant words and just plain, first draft writing. Be excellent and you will rise to the top of the pile.
Don't obsess about punchline stories with big character arcs and melodrama. Small and understated stories can work just as well, even portraiture in some cases.
But if you do have a killer 'big' story, do write and submit it. Remember you can submit more than one script and we urge you to write something radically different for your second submission.
To help filmmakers, unless absolutely essential, we would avoid naming cities / countries in your scripts. This will allow filmmakers ANYWHERE to produce your script and in the correct timezone for their own shooting location.
Filmmakers, please do write scripts and submit too. This year we are running a Wild Card initiative - more on the Wild Card below.
Consider producing a film, even if it's not your script. The value is in the journey, process, new relationships and experience.
Consider production issues. Someone who is cash strapped but overflowing with passion and chutzpah may shoot your film. Ask yourself, how could I arrange what's in the script? If you feel it would be possible, even a challenge, it's probably OK.
Avoid obvious 'first idea' stories. No matter how good it is, if it's an obvious thought we may well get a lot of scripts on that same theme, and we can only take one script that tells 'that story'. In '50 Kisses' we had around 100 'deathbed in a hospital confession' scripts, and we could really only take one or the film would start to feel very 'samey'. By all means write it and submit it, but also write a second one that is not that 'brilliant first idea' you had.
Be prepared to engage with the community in a positive and constructive manner. Expect to receive feedback, some of which you may not like. But remember this is a critical part of the writer's process and will be a constant throughout your writing career.
Be prepared to engage in the process beyond the writing of your script. We encourage you to engage and collaborate with the filmmakers and you should also expect to get involved in the marketing (online and via traditional press) of the final completed film as it goes into distribution (be that in theatres, television or online). Though your script may be one of many shorts included, ultimately this is YOUR film and YOUR career you are advancing.
If your script is chosen as one of the 50, you can of course shoot it yourself and submit it. You can also shoot any other script too. Other filmmaking teams may choose to shoot your script also.
What is the Wildcard?
We recognise that some scripts don't read as immediately accessible, but they are driven by a director's vision. If your script is NOT selected for the final 50, it can still be part of the process but ONLY as a second film submission from a filmmaking team. To be clear, a filmmaking team MUST make a script from the final 50 (and can make as many as they like from the final 50). But after making ONE film, they can select ANY script from ALL submissions to produce and submit and it will be eligible for inclusion in the final film. This is a wildcard film and, like Jokers in the pack, we will select two Wildcards for the final film.
About The Rights You Will Give Us
Screenwriters, if your script is selected for the final film, you will need to assign the rights to us so that we can offer it up for production.
This will be an exclusive deal for two years after which the rights will revert back to you. You will always own your own script. Everyone who was involved in 50 Kisses did this and we had no issues.
What to do next?
If you have a two page idea, if you want to see your scripts filmed, if you want to launch a career, if you want to create powerful relationships with other creative people, filmmakers and writers... THEN GET INVOLVED! (rules below)
To submit a script, click the red button on the menu at the top of the page.

Rules for 'The Impact:50' For Screenwriters
Please read the whole of this document, including the guidelines for submission.
Scripts MUST be a story about what happens in the 97 minutes after the presidential announcement.
'The Impact:50' will be set in contemporary reality. No aliens, zombies or the paranormal please.
You can enter an unlimited amount of screenplays.
The submission fee is £5.
There is no fee for redrafts.
Anyone can enter, from any country, but scripts must be in English.
You can supply up to three drafts of your script, including your initial draft.
Scripts must be two pages or less. No cheating on formatting and no exceptions.
ALL scripts should include a title page with writer and script name (the title page is not one of your two pages).
All scripts must be in standard industry format. We recommend Final Draft - free trial version here - or any other recognised industry software is acceptable (i.e, Celtx or Scrivener)
All submissions MUST be made in PDF format. Final Draft will save in PDF format, or you can use free online converter such as https://online2pdf.com/ to convert your document to PDF.
Please name your script with the title, draft number and your name - example My-Script-Draft-2-By-Jane-Jones.PDF
For each script you submit you MUST read and feedback on at least three other scripts.
Any entrants under the age of 16 must have a parent or guardian check the parental consent page and check the relevant box.
You can submit under a pen name only if you have indicated you have a pen name on your profile page. Please create your profile page in your real name and also add your 'pen name' details.
All Create50 profile pages must be created in your real name and include a real headshot (no avators, funny pictures or anything that isn't a genuine headshot).
No script title changes will be permitted once a script has been submitted and accepted into the system.
The deadline for submissions is January 7th, 2016, midnight UK time.
Once the finalists are announced, they will be invited to submit further drafts.
All finalists will receive 'Producer's Notes' from the Create50 team and the wider community will be invited to offer feedback.
If your script is selected to be a finalist, you will be expected to assign rights to us so we can offer the script up for production. Failing to assign rights to us will result in your script being passed over and another script will be selected in its place.
Judging is final.
The star rating is not part of the judging, we use it as a guide only.
All scripts will be read and rated by our team.
You MUST be the author of the script. All scripts should be original and unproduced works written specifically for this initiative.
Once you have submitted a script you cannot delete or withdraw it under any circumstance. This is to reflect the work other people put into feeding back on your project.
We reserve the right to disqualify any writer from this process at any stage if they are in violation of these rules and guidelines.
These rules will be updated and added to in the coming weeks and months as the project evolves.

Music and Posters
Write a piece of music for 'The Impact:50'
We are inviting composers, musicians and performers to submit music for 'The Impact:50'.
We are looking for music that will be used in the end credits (songs as well as score), the trailer music (around 3½ minutes of score and possibly a song), and score and songs that the filmmakers can use in their films.
Listen to music submitted to 'The Impact:50' HERE. Submit with the red button on the menu bar at the top of the page (we use soundcloud for uploads: please add your music to soundcloud and use the link for uploading).
Can you design a poster for 'The Impact:50'?
We will be inviting designers to create the movie poster for 'The Impact:50'.
Submissions should be in JPG format / portrait aspect ratio and in high resolution. Please keep original PSD files should we choose to evolve the design or change text and fonts on posters.
Check out poster designs for 'The Impact:50' HERE. Submit with the red button on the menu bar at the top of the page, then select Upload Design.

Awards Categories for 'The Impact:50'
At the premiere and awards, we will announce the winners as selected by our panel of industry judges. The categories include...
Best Screenplay Award
Best Performance
Best Production Design
Best Cinematography
Best Editing
Best Music
Promo / Trailer music Award
Best Song
Best Sound Design
Guerilla Film Award
Best Director Award
Best Film Award
Audience Award To Be Announced
Screenwriting: Judges for 'The Impact:50'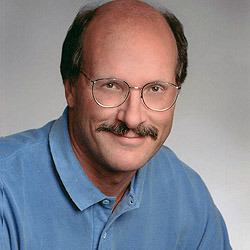 Ted Tally // Oscar winner for 'Silence Of The Lambs'
Ted wrote the screen adaptation of The Silence Of The Lambs, for which he won an Academy Award. He also wrote the screenplays for Red Dragon, White Palace, Before And After, The Juror, and All The Pretty Horses and did rewrites and served as Associate Producer on the Brian De Palma film Mission To Mars, and as Story Consultant on Shrek 2, Madagascar, and Shrek The 3rd.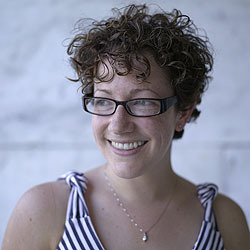 Nicole Perlman // Screenwriter 'Guardians of the Galaxy'
Nicole was a member of the Marvel Writers Program from 2009 to 2011 where she first began developing Guardians of the Galaxy. She is currently developing the 'Matthew Swift' fantasy book series for Skydance Television, and writing a comic book series for Marvel Publishing. Nicole was listed in The Playlist's Ten Screenwriters On the Rise in 2013.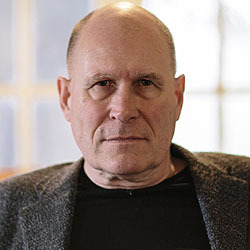 William Nicholson // Screenwriter Oscar nominee for 'Gladiator'
Nicholson rose to success with Shadowlands, after which he wrote Nell, First Knight, Grey Owl, Gladiator (as co-writer) for which he received a second Oscar nomination, Elizabeth: the Golden Age, Les Miserables and Mandela: Long Walk to Freedom. He has also written a number of plays including The Retreat from Moscow, which ran for five months on Broadway and received three Tony Award nominations.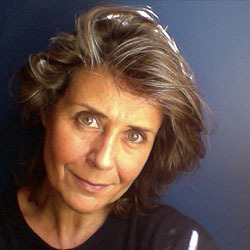 Lisa Albert // Writer and Producer Mad Men
Lisa Albert was born in New York City into the kind of family that makes you a writer. Her TV credits include: Murphy Brown, Major Dad, Living Single, Hannah Montana and most recently she served as Producer and Consulting Producer on all seven seasons of Mad Men. She has won three Emmy awards, four Writers Guild awards and a Peabody for her work on Mad Men.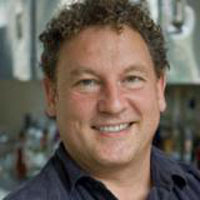 Ashley Pharaoh // Veteran TV writer 'Life on Mars'
Ashley has created and written several long-running series for the BBC and ITV including Life Support, Down To Earth and Paradise Heights as well as smash hits Life On Mars and Ashes To Ashes. A vocal supporter of emerging screenwriting talent, Ashley is a perfect fit for judging Create50.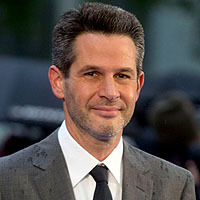 Simon Kinberg // Star Wars Episode VII and more...
Simon's credits include three X-Men movies, Mr and Mrs Smith, Sherlock Holmes, Elysium and Cinderella. Next up are is The Fantastic Four and The Martian directed by Ridley Scott. He is also writing and producing one of the upcoming Star Wars films. He is serving as consultant on Star Wars: Episode VII, and he is the creator and executive producer of the animated show Star Wars: Rebels.
More Screenwriting judges will follow soon.
Filmmaking: Judges for 'The Impact:50'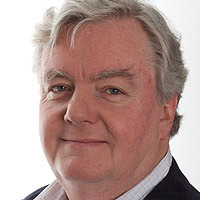 Iain Smith // Producer 'Mad Max: Fury Road'
Both prolific and a great supporter of emerging talent, Iain is an established international film producer and recipient of a BAFTA for Outstanding Achievement in Film. His many production credits include Chariots of Fire, Local Hero, The Killing Fields, The Mission, 1492-Conquest of Paradise, The Fifth Element,Children of Men, The Fountain, Spy Game and Mad Max: Fury Road.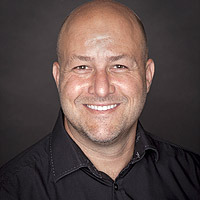 Evan Jacobs // Visual Effects Supervisor, Guardians of the Galaxy
Award winning Visual Effects Supervisor, Evan has contributed to some of the most successful blockbusters of recent times, including Avengers: Age of Ultron, Guardians of the Galaxy, Captain America: The Winter Soldier, Olympus Has Fallen, Alice In Wonderland, and Titanic.
More filmmaking judges will follow soon.

Asteroid Impact 101: The Facts
Picture from the dashcam of a driver in Russia who saw the Chelyabinsk meteor
Many meteors hit the atmosphere each year and appear to us as shooting stars. Few make it to the ground as a meteorite.
Recently, we all saw video clips of the Chelyabinsk meteor which was half a ton when it finally hit the earth.
In the more distant past Meteor Crater in Arizona was created 40,000 years ago by a meteorite the size of a basketball court.
The dinosaurs were killed by a meteor that struck the Yucatan basin 65 million years ago. Ash and debris engulfed the atmosphere and temperatures plummeted, killing almost all large animals. Rodents and other small animals thrived and dominated and rose subsequently. This meteorite was estimated to be around 10km wide.
Most scientists agree that a large asteroid impact is a certainty. It's just a matter of when.
A big enough asteroid has the potential to kill all life on earth. The impact would boil and vaporise the ocean, create massive Tsunamis, blast the atmosphere into space. Truly hell on earth.

'The Impact:50': The Core Team
*Picture above from the premiere of '50 Kisses' where we all signed a poster.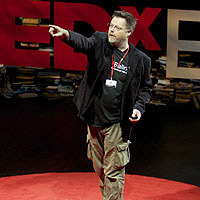 Chris Jones // Director, founder and team leader
Filmmaker, author and creative entrepreneur. Chris has made feature films, an Oscar shortlisted short, runs TEDxEaling, The London Screenwriters' Festival and has written seven books in his Guerilla Filmmakers Handbook series. Chris also founded Create50 and led the team behind 50 Kisses.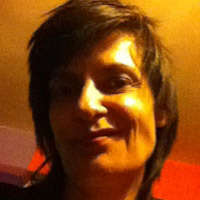 Judy Goldberg // Producer
A producer and screenwriter, Judy also manages the London Screenwriters' Festival. Judy has worked on over 50 music videos and commercials, as well as several big budget feature films including three of the 'Resident Evil' franchise starring Milla Jovovich. Most recently Judy founded the community short film initiative 'Be Heard' which was created, written, directed and produced by survivors of abuse.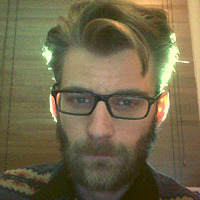 Daniel Owen van Dommelen // Web technologist
Daniel has over 16 years of experience as a senior software engineer, working in many different fields. An expert in cutting edge languages such as Ruby, combined with his experience in social network development and filmmaking, makes Daniel an ideal fit for Create50. He is also a filmmaker and film lover like us all.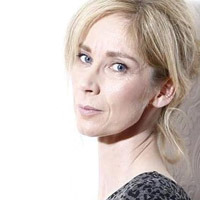 Vanessa Bailey // Online Community Manager
Vanessa loves social media and sharing knowledge and inspiration via online platforms. She is also a professional actress (with credits including 'Southcliffe', 'Doctors' and 'The Sarah Jane Adventures'). Her experience building and managing online communities is invaluable for Create50 and will provide a continual conversation throughout the whole process.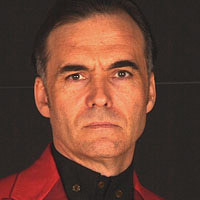 David Nicholas Wilkinson // Distributor
David has produced and/or distributed almost 150 feature films and has acted as a consultant on over 300 more, advising on behalf of institutional financiers, individual investors and numerous film and television production companies. David also distributed 50 Kisses and was instrumental in its success.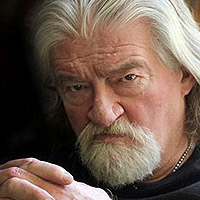 Joe Eszterhas // Hollywood Screenwriter
Joe Eszterhas is an American screenwriter and best-selling author. He has sold nearly thirty screenplays, seventeen of which have been produced, and his movies have grossed more than $1 billion at the box office. Joe's most notable credits include 'Basic Instinct', 'Jagged Edge', 'Flashdance', 'Sliver' and the cult classic 'Showgirls'.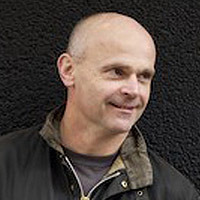 Gub Neal // Executive Producer
Gub is an award-winning producer, formerly Head of Drama at Channel 4 and before that Controller of Drama at Granada. There he co-created 'Cracker' and won an Emmy for 'Prime Suspect'. Most recently Gub produced both seasons of the BBC's smash hit 'The Fall' starring Gillian Anderson and Jamie Dornan.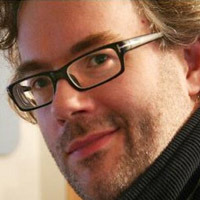 Eddie Hamilton // Consultant Editor
Eddie's most recent credits include 'X-Men: First Class', 'Kick-Ass', 'Kick-Ass 2' and 'Kingsman: The Secret Service'. Eddie is currently editing 'Mission Impossible: 5' with Tom Cruise returning as Ethan Hunt and Chrisopher McQuarrie directing. Eddie's unwavering dedication to his work and infectious energy never fails to inspire anyone who comes within three feet of him.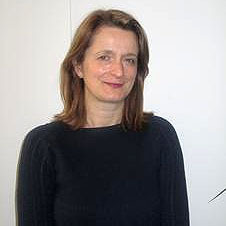 Tina McFarling // Consulting Publicist
Tina is a PR powerhouse in the UK film industry. Currently serving as Media Advisor for the BFI, previously Tina spent three years with Premier PR at Director, Corporate PR and before that was Head of Industry Communications at the UK Film Council. She has also worked for the British Film Commission, Moving Pictures International and Screen International.

What writers and filmmakers say about Create50 and 50 Kisses
'50 Kisses' opened the doors for my first time exhibiting a film in a festival, the first time going through an entire creative process, the first time people looking at me like I could really be a filmmaker. But more than this, showed me what we can achieve if we join forces and work toward our goals.
Carolina Rodrigues, Filmmaker (Brazil)
'50 Kisses' has shown that collaboration on a global scale is possible and it can yield beautiful and cohesive results. It pushed us all to deliver to a very high standard and then to give ourselves up to unpredictable, exciting and possibly brilliant interpretations of our work. Witnessing so many different interpretations of my script, being part of such a large project and collaborating with people from all over the world was extraordinarily rewarding.
Nigel KariKari, Screenwriter (Australia)
'It has been amazing to be part of something so global. As a result of '50 Kisses' I have met and collaborated with filmmakers, screenwriters, producers and agents from around the globe.'
Jo Buckman, Screenwriter (America)
'After being selected as one of the final 50 scripts I was contacted by producers, agents, directors and became friends with plenty of my fellow 50 kisses writers/directors. One of those producers was '50 Kisses' director Stare Yildirim who I ended up writing a TV Pilot for, for Turkish TV. This was my first ever paid writing gig and it came out of the exposure my 50 Kisses script got. Between the paid writing gig and the huge 50 Kisses world premiere I got to take a peek at my future. Loved what I saw and want more.'
Stephen Cooper, Screenwriter (UK)
'After I put my film entry up on the '50 Kisses' website I got all this wonderful and constructive feedback from other '50 Kisses' filmmakers and I could then re-edit and improve the film before the deadlines closed. Over the 2 years of the project I have met so many other filmmakers, actors and writers in the 50K community and it's spun off into so many other projects.'
Phil Peel, Filmmaker (UK)
'The breadth of opportunities available are vast if you're willing to accept the challenge. I was part of a team distributing '50 Kisses' commercially which, as a writer, was invaluable in understanding audience, the importance of concept and how a film is marketed. It will certainly effect how I view my own writing projects going forward.'
Tracey Flynn, Screenwriter, '50 Kisses' (UK)
'I take my hat off to Chris, Judy and their hardworking team. What they achieved on a shoestring is incredible - give them a little bit of funding, help and support and they'd blow our minds!'
Mark Pallis, Screenwriter, '50 Kisses'
What to do next...?
Get involved
Create a profile if you have not already HERE
Read some scripts and offer feedback HERE
Write and submit your script HERE.
Submit a script with the button on the menu at the top of the page.